Director: Floria Sigismondi
Year: 2020
Rated PG-13
Rating: * * 1/2 Stars
Cast: Mackenzie Davis, Finn Wolfhard, Barbara Marten
The Turning
as 'bump in the night' incarnate, is my latest write-up. It is based on the 1898 novella,
The Turn of the Screw
. "Turning" includes Mackenzie Davis in her first starring role. As I watched
The
Turning
, I kept wondering why Mackenzie's character Kate just couldn't find the gumption to get out of the haunted house she was living in. Oh wait, if she left there'd be no movie.
Anyway, "Turning" is a 2020 release and it is directed by the woman responsible for
The Runaways
(Floria Sigismondi). Shot almost two years ago in goth fad, I'd say it's the film version of
Paranormal Witness
crossed with 2001's
The Others
(if
The Others
took place in the early 90's).
In regards to
The Turning
, you get countryside Ireland masquerading as Maine for a imitation shooting location. As for the cinematography by David Ungaro, well it's adequately jungly with plenty of low tracking shots and darkness via the Fairchild Estate (I'll get to that later).
The performances in "Turning" are excellent with Mackenzie Davis, Finn Wolfhard, and Brooklynn Prince being the standouts. Basically,
The Turning
is loads of horror build-up with atmosphere, moxie, and systematic jump scares in check. Oh and with most fright flicks, the statutory music pounces in at just the right moments.
Distributed by Universal Pictures, more morbid than scary, and once a passion project for Steven Spielberg, "Turning's" building plot has to do with a nanny who is hired to watch over two orphans at an eerie mansion (the old-world Fairchild Estate).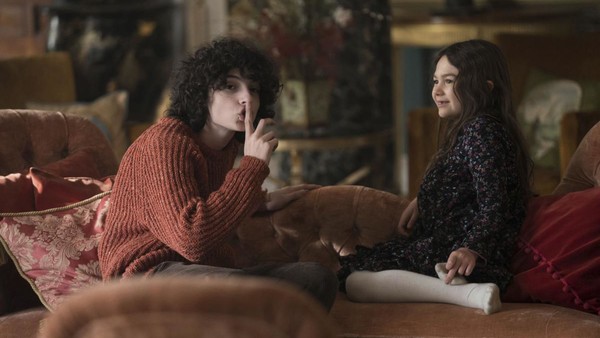 All in all, "Turning's" abrupt ending harnessed as stodgy symbolism, is sadly the culprit. It's a head scratch-er and it disappoints almost everything that came before it. Yup, the line producers probably came in and "turned" up the heat. Rating: 2 and a half stars.
Written by Jesse Burleson