Director: Hany Abu-Assad
Year: 2017
Rated PG-13
Rating: * 1/2 Stars
Cast: Kate Winslet, Idris Elba
Two strangers named Dr. Ben Bass and Alex Martin (Kate Winslet and Idris Elba), find themselves alone on a mountain after their plane goes down in the middle of nowhere (the pilot had a stroke, ugh). They must try to pull through with limited food, blistering weather, and no sight of rescue. Oh yeah and a dog joins their plight but barely suffers one iota. That's the gist 2017's erred,
The
Mountain Between Us
(my latest review).
So OK, sometimes a movie doesn't quite succeed with only two troupers commanding most of the scenes. "Mountain", which feels like a cinematic antiquity from the late 80's or early 90's, is sadly that movie.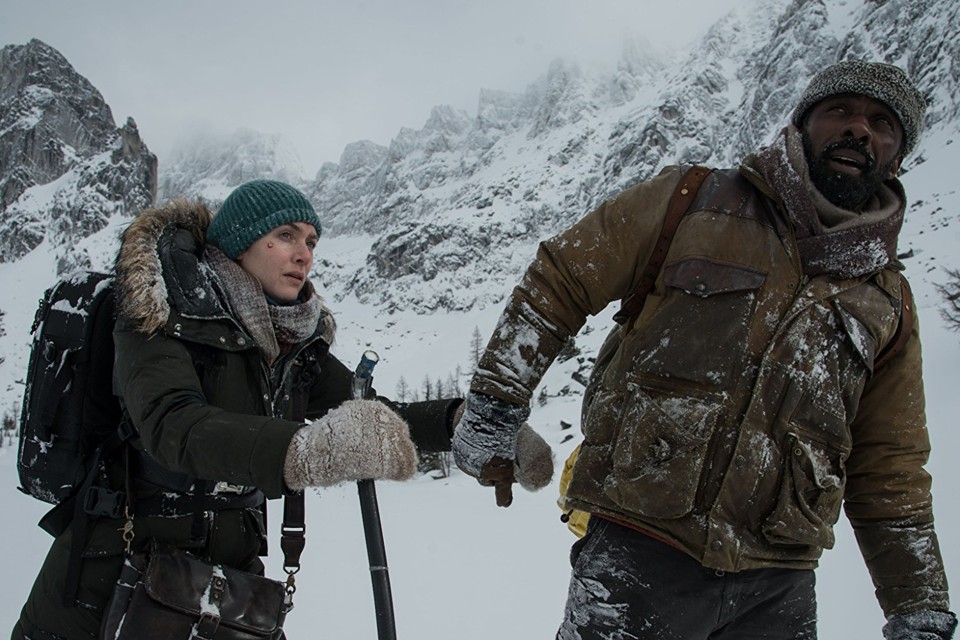 Between a lovemaking sequence, a woman falling through frigid ice, a sappy ending, and a terrifying plane crash,
The Mountain Between
Us
is a rinse, repeat cycle of ho hum Survivalism. The two main characters banter, walk aimlessly, and then build many a fire. Idris Elba's Ben must have one heck of a lighter because he blazes enough logs to equal the lethal destruction of Southern California.
"Mountain", with its scenic views of snowy, mountainous Vancouver (which substitutes for Idaho), is like a quasi-love story version of
Alive
and 2011's
The Grey
. The problem is that
The Mountain Between Us
isn't as clinching as the two films just mentioned. The screenplay by two writers (Chris Weitz and J. Mills Goodloe) is filled with banalities. It recycles itself while sledgehammering the themes of death, dying, perseverance, and obliged romanticism.
As for Hany Abu-Assad's direction (he shot
The Idol
and 2013's
Omar
), well he keeps things tedious and repetitive. His "Mountain" includes almost no persona build-up, relentless snowflakes, and implausible death escapes. Winslet and Elba give decent performances but they have wandered into an unchanging, thriller miscalculation. Rating: 1 and a half stars.
Written by Jesse Burleson