Director: Alejandro Gonzalez Inarritu
Year: 2014
Rated R
Rating: * * * 1/2 Stars
Cast: Michael Keaton, Emma Stone, Edward Norton
Michael Keaton has been appearing in movies every since he burst onto the scene doing the fast-talking, kooky, morgue worker thing in 1982's
Night Shift
. Since then, he's been in mostly semi-memorable comedies, a couple of stints in two
Batman
films, and forgettable duds like 1998's
Jack Frost
, 2005's
White
Noise
, and
Herbie: Fully Loaded
(oy vey). Watching 2014's
Birdman
made me wonder why it took so long for him to I don't know, star in anything Academy Award worthy. He's always had the ability to someday be nominated for an Oscar. Director Alejandro G. Inarritu's latest is a raw, unflinching, bracingly original play on words and for what it's worth, might just punch Keaton's thirty-two year wait of a ticket. As an acting showcase, this "bird" is definitely the word as quiet as it's kept.
Filmed primarily in and around one location (NYC's St. James Theatre), edited brilliantly by Douglas Crise (
Spring Breakers
) and Stephen Mirrione (George Clooney's
The Monuments Men
), and featuring a lot of male characters fighting/running around in their underwear,
Birdman
immediately hones in on a washed up actor named Riggan Thomson (Michael "my real last name is Douglas" Keaton). Thomson hasn't been in much of anything lately whether it be Broadway or Hollywood fodder. His one salvation: To direct, write, and star in a play adapting Raymond Carver's (a real-life, famous writer) short story, "What We Talk About When We Talk About Love". As the proceedings move along, you don't get the feeling that you're gonna see many acts in said stage production (within a movie). It's more about the behind-the-scenes stuff that is conflicted with multiple actor egos, creative differences, actual fist fighting among the cast members, daughter/father resolutions, and attempted, co-star rape (very mild and only in one short scene).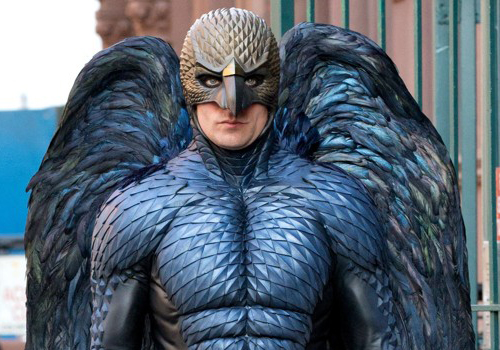 Michael Keaton's performance, which if you haven't already heard, is the high point. It has a nasty, kick-in-the-door intensity to it. Is his Riggan Thomson on drugs? Is he a chronic alcoholic? Or schizophrenic? Does he have an imaginary friend in alter ego "Birdman" (his superhero character popularized in movies over two decades ago)? Finally, can he actually move objects with his brain? And can he fly (you know I'm kidding, right)? It doesn't matter. Keaton's Thomson probably possesses a lot of these things and he plays him with a visibly weathered, unassuming style. You can't quite see the wheels turning in Beetlejuice's head. That's the brilliance you get from a veteran screen icon who seems hellbent on literally acting his testicles off. The rest of the cast, well they fade in and out and still kill it at the same time. Edward Norton is despicably good as Thomson's belligerent acting rival. Emma Stone, with her gigantic, glaring eyeballs, emotes wonderfully in a couple of scenes as Keaton's character's druggie daughter. Zach Galifianakis is unexpectedly brilliant playing Thomson's hopped-up best friend/lawyer (this is quite a diversion from his
Hangover
doofus) and Amy Ryan, well she's a soft revelation playing I guess, Thomson's intolerant ex-wife.
Then there's Inarritu's knockout direction which has to be seen to be believed. He's a filmmaker who doesn't fly by the rules and gets away with things every time. Remember in 2003's
21 Grams
when he filmed every scene out of order (like a bunch of puzzle pieces) only to put them neatly back together in the end? I do. This guy's out of bounds but in a good way. With
Birdman
(his 5th feature), he fumbles a bit with his confusing storyline only to shoot some of the most elaborate tracking shot sequences this side of
Goodfellas
and
Boogie Nights
. You drop your jaw in amazement as to how many marks the actors had to hit, how many takes their endless shots might have possessed, how many hundreds of lines of dialogue they had to memorize, and when in said shots, did Inarritu actually yell "cut" (it's conceivable that the first hour or so might have been one long tracking bonanza. That can't be right, can it?).
In retrospect,
Birdman
is set to a film score that is mostly fused with solo, jazz-inspired drumming. It's a fall release posing as part hallucinatory dream, part suicidal character study, and part frigid, black comedy. Watching it made me think that what's on screen might be too radical for title as best vehicle of 2014. It could however, get a shot in the category of Best Picture nods come January. Only time will tell. Anyway, as a celebratory Steadicam feast that makes you think, "how the heck did they film that?",
Birdman
is Keaton's finest hour and for my money, truly a top "feeder" (ha-ha).
Written by Jesse Burleson