Director: Spike Lee
Year: 2015
Rated R
Rating: * * 1/2 Stars
Cast: Nick Cannon, Wesley Snipes, John Cusack
Chicago, Illinois is considered to have one of the highest homicide rates in the entire United States. I live there and not a day goes by where I don't hear about someone getting shot via the local news.
Chi-Raq
(my latest review) depicts Chi-Town's happenings and a whole lot more. It's tangled, unfocused, preachy, and bubbly. It also marks the return of director Spike Lee so you know it's an editing nightmare (here comes another heavy dose of plot over plot). What we have with this love letter (or love lost) to the Windy City, is a sort of skit where every word of dialogue is a rhyme or limerick. Lee's canvas in "Raq" is huge with hundreds of extras and many backdrop, Chicago locales. There's a ton of sexual innuendo, a brilliant performance by Nick Cannon (he plays a rapper/gangster and the lead character), a miscast John Cusack (he plays a South Side priest who overacts to the point of bedlam), and plenty of Lee thespian, regulars (Wesley Snipes, Angela Basset, Samuel L. Jackson). In short, it feels like the studios told Mars Blackmon he could do whatever he wanted. Therefore, he comes out guns blazing (no pun intended) while injecting the film with an overload of flask humor and cutthroat, Greek mythology. Sadly, a few targets are indeed missed.
With its derogatory nature towards the female genitalia, its opening image of a U.S. map outlined by guns, and its opening song complete with Karaoke-style rap lyrics,
Chi-Raq
is amusing as well as just different. It's a solidified mixture of real-life, true events and a sliding nod towards
Lysistrata
(a Greek comedy). Teyonah Parris plays the title character, a woman who leads a revolt against gangbangers and thugs in Chicago's savage, Englewood neighborhood. According to the readings of Lysistrata and the Parris caricature, women in Englewood will abstain from giving their boyfriends sex until they stop shooting and killing innocent people. Hence, there's a vibe with Chi-Raq that feels as much like an urban
West Side Story
as a gun-toting version of
Grease
. Look out for an all-cast dance off to the Chi-Lites ditty, "Oh Girl". It's probably my favorite moment.
Now with "Raq", Lee includes a cast that is extravagant as anything he had going for him in
Do the Right Thing
(1989). The problem is that all of his troupers fade in and out of the proceedings very quickly. An example of this would be the film's narrator, voice, and chorus in Dolmedes (played by Samuel L. Jackson). In truth, Chi-Raq's running time (118 minutes) dissipates and what we're left with is highly-stylized, highly-volcanic scenes clearly in search of a movie. In terms of Lee's most heralded endeavors, I would rank it rightfully below
Bamboozled
(2000),
25th Hour
(2002), and my all-time Lee favorite, 1995's
Clockers
.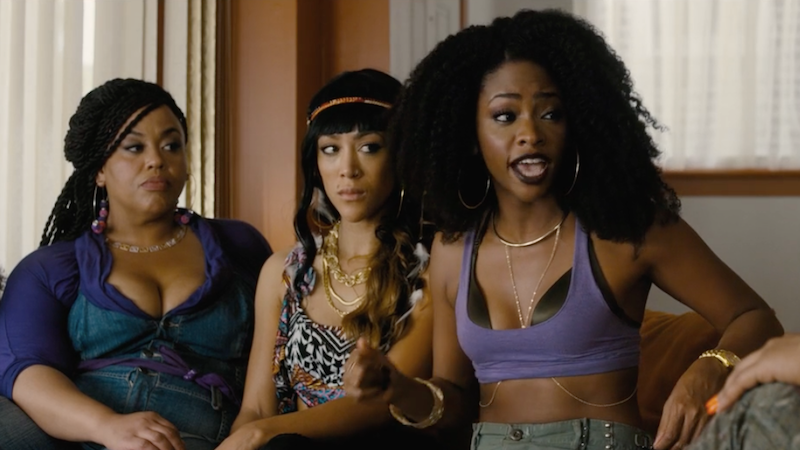 In the end,
Chi-Raq
like most of Spike Lee's films, has a heavy breadth of energy, a sense of urgency, and in essence, it's really about something. And who can resist the always teaming musical score by maestro Terence Blanchard. Unfortunately, the gun violence by which Lee sermonizes here, is minimalistic. And for over two hours, the proceedings are drenched in satiric silliness. Bottom line:
Chi-Raq
has its moments yet doesn't fully do justice to the South Side of Chicago or its murderous environment. My rating: 2 and a half stars.
Written by Jesse Burleson