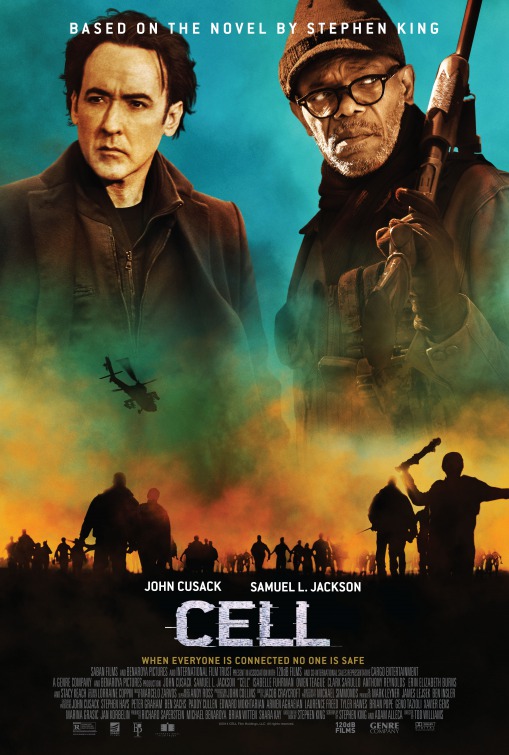 Director: Tod Williams
Year: 2016
Rated R
Rating: * * * Stars
Cast: John Cusack, Samuel L. Jackson, Isabelle Fuhrman
Imagine this: You talk on your cellphone and as a result, you become a programmed killer. You're full of rage, you bang your head against the wall, you moan with your mouth gaped wide open (in a comatose state), and you pummel any JQ citizen into submission. That's the gist of
Cell
(my latest review). John Cusack stars and because his Clay Riddell was on a payphone instead, he turns out to be the protagonistic hero. Lloyd Dobler, we hardly knew ya!
Anyway, it's always interesting seeing Cusack in a film not related to being a romantic comedy or drama. Such is the case with
Cell
. In this sort of wireless server version of
World War Z
, he teams up with his
1408
co-star in Samuel L. Jackson. Their two characters tote guns, befriend each other, and wander a bleak landscape with other non-possessed humans. Safe to say, Sammy and John make a decent on-screen pairing.
Now
Cell
with its shaky cam direction by Tod Williams, reminded me of a grainy creature feature. It also felt like all things apocalyptic and coldly ominous. So yeah, its ending may be a little abrupt and confusing. And yeah,
Cell's
opening credits are cheap, cheesy, and sort of hackneyed. Oh well. There are some terrifying moments here coupled with some added philosophical assessments to boot. Hey let's be real, studios and producers seem to be running out of ideas for movies about zombies with zombie-like premises.
Cell
despite all this, still answers the call (ha-ha). Yup, I guess I'm gonna recommend it.
Based on a novel by Stephen King and helped by six production companies (you'll know what I mean when you pop the DVD in and it takes forever to get to the film's beginning),
Cell
is B movie glory, a flick only slightly bogged down by a non-zippy second half. Director Tod Williams (
Paranormal Activity 2
) does more than what's required for your typical rental. He provides
Cell
with plenty of old school zoom ins and zoom outs making things atmospheric, ambient, and full-on kooky. There are times when
Cell
feels like it's almost parodying most undead movies. Other times it's terrifying enough to have you never wanna pick up your BlackBerry again. Critics have loathed
Cell
ever since it came out calling it amateurish, clunky, and inept. I digress. Don't knock this film until you've seen it. Rating: 3 stars.
Written by Jesse Burleson