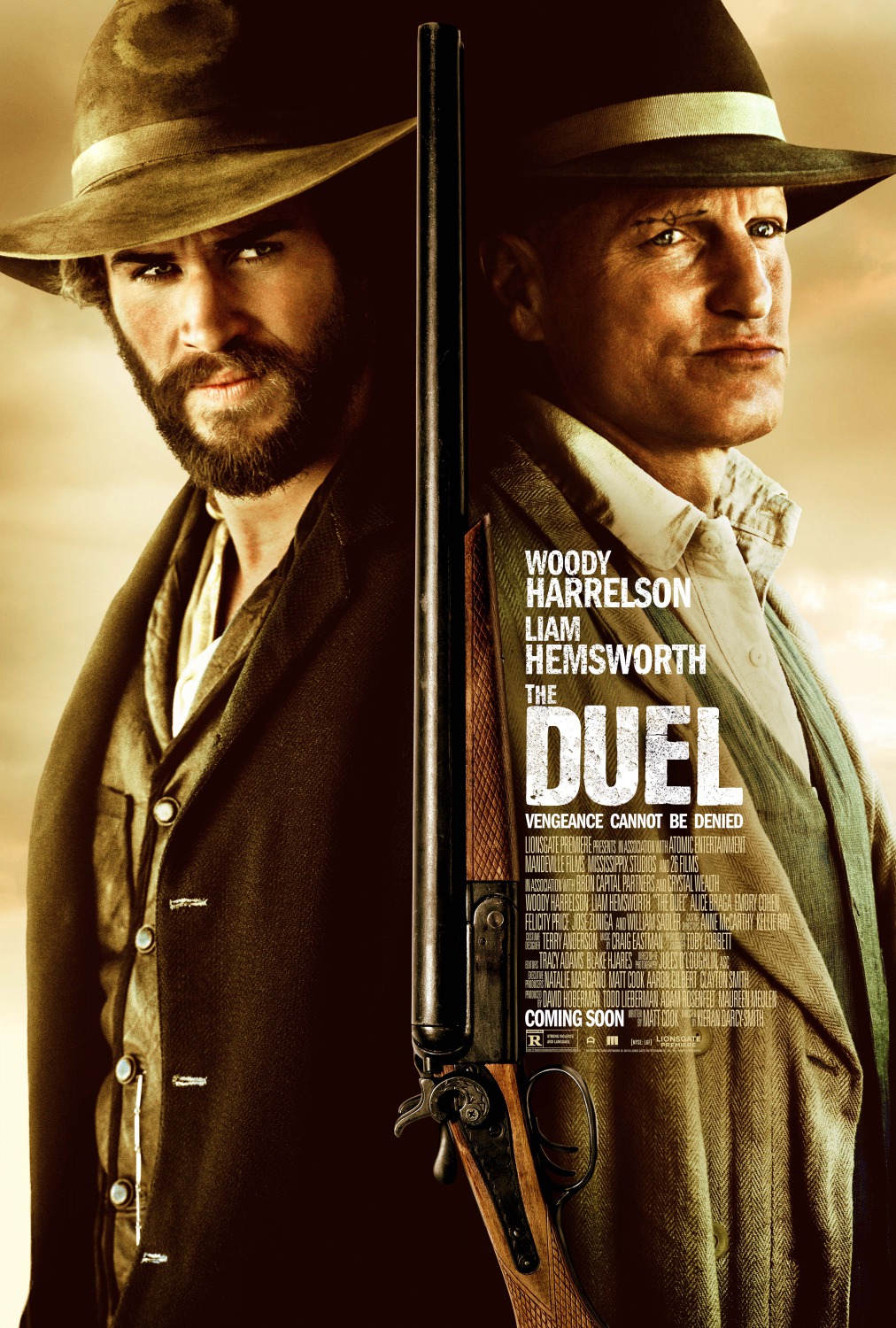 Director: Kieran Darcy-Smith
Year: 2016
Rated R
Rating: * 1/2 Stars
Cast: Woody Harrelson, Liam Hemsworth, Alice Braga
I'm not sure what director Kieran Darcy-Smith was going for when he made 2016's
The Duel
(my latest review). Muddled yet scenic, draggy yet periodically violent, "Duel" is one unclear Western.
At a running time of 110 minutes, "Duel" sure does feel like three long hours. It takes place oh about 100-plus years ago with vague, plot elements from
Gang of New York
and bearings straight from 1978's
Days of Heaven
. Star Woody Harrelson plays a creepy preacher and talks with a Southern drawl for the millionth time. Co-star Liam Hemsworth plays a pretty Texas Ranger and has a bland disposition in the acting department. Finally, Alice Braga plays Hemsworth's character's wife, a non-outlaw who becomes mysteriously ill and feels downtrodden. Oh yeah, there's another
Days of Heaven
reference I forgot to mention. Braga looks a little like Brooke Adams. Adams was Terrence Malick's cutesy muse from back in the day.
Anyway, the story is as follows: David Kingston (Liam Hemsworth) has been tapped to investigate some murders and disappearances in a small, Old West frontier town. He also has been sent to keep an eye on the town's chief officer, Abraham Brant (Woody Harrelson). Brant looking kinda similar to Harrelson's own Mickey Knox, killed Kingston's father over twenty years ago. Is Kingston bent on revenge towards Brant? Is Kingston just doing his job as a responsible Ranger? Is Brant gonna have another sermon with snakes being passed around in his congregation? Is this movie ever gonna lead somewhere? Oops, I'm going off on a tangent. Sorry.
In conclusion,
The Duel
is slow-burning and almost devoid of conflict. And whenever said conflict does exist, well it is artificially forced upon us, the audience. There's the occasional stabbing, a final gunfight amidst rock formations, a couple of killings by way of game-like shooting, and a dark, saloon standoff between good and evil. If you don't fall asleep during "Duel", you'll occasionally catch these moments (only briefly though). If you do fall asleep during
The Duel
, well you aren't breaking any laws. Do yourself a favor, rent something from Clint Eastwood or George Stevens instead. Rating: 1 and a half stars.
Written by Jesse Burleson