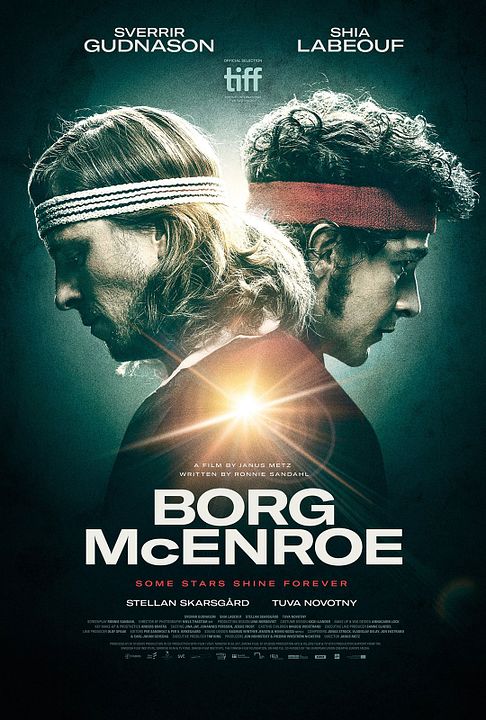 Director: Janus Metz Pedersen
Year: 2017
Rated R
Rating: * * * Stars
Cast: Shia LeBeouf, Sverrir Gudnason, Stellan Skarsgard
In
Borg vs McEnroe
(my latest review), Shia LeBeouf's John McEnroe utters, "you cannot be serious" and "you guys are the absolute pits of the world". This actually happened a year later, not during the 1980 Wimbledon semifinal (which is briefly depicted in "vs"). Oh well. We all get a kick out of seeing John McEnroe throw a tantrum on the tennis court. The filmmakers I suppose, added his famous outburst in just for effect.
Anyway, "vs" is slow-moving yet intricate. It also lacks excitement but feels saddened and absorbing.
Borg vs McEnroe
is equal to 2017's
Battle of the Sexes
, better than 2004's cutesy
Wimbledon
, and less syrupy than 1979's
Players
. If I had to rank it in the small throng of tennis movies, it would be near the top.
Based on a true story, predictable if you know tennis, and relatively accurate in terms of baseline recreation, "vs" chronicles the events leading up to John McEnroe and Bjorn Borg's famous clash at the 1980 Wimbledon final. Borg and McEnroe met 14 times in their careers with a record of 7-7 between the two of them.
Borg vs McEnroe
the movie pushes all that aside to handily focus on said final. Torrid behind the scenes stuff, wooden rackets, public cigarette smoking, headbands, mulled grass courts, and bad sportsmanship. It's all there vividly in "vs".
In truth, "vs" is a decent flick. Janus Metz Pedersen's direction is solid as he creates something that is R-rated and at times, pressure cooked. He does well with various flashbacks and numerous overhead shots of the sweaty tennis action. The way he uses camera angles to film groundstrokes and volleys is like nothing I've ever seen before.
Pedersen's "vs" is also a master thesis in the character development of one Bjorn Borg (played by Sverrir Gudnason who looks like Borg and gets his mannerisms just right). As for the McEnroe persona channeled by Shia LeBeouf, well it's not fully drawn-out and for good reason. LeBeof gives a decent performance but doesn't look like John McEnroe, strut like John McEnroe, or completely act like John McEnroe (too many obvious F-bombs and no East Coast accent). The producers probably knew this and didn't want to fluctuate and/or elaborate on Johnny Mac's hard-ass back-story.
All in all, it's hard to make a compelling film when you know the outcome. Also,
Borg vs McEnroe's
pace is somewhat glacial with some muted scenes feeling like pseudo PowerPoint presentations. Still, "vs" is edited well (check out Borg's superstitions/rituals with his Donnay sticks and his overall body routine) and has an effectively saturated look. As independent fodder made carefully with a little skill and craft,
Borg vs McEnroe
secures "match point" and gets my harnessed recommendation. Rating: 3 stars.
Written by Jesse Burleson