Director: F. Gary Gray
Year: 2019
Rated PG-13
Rating: * 1/2 Stars
Cast: Chris Hemsworth, Tessa Thompson, Liam Neeson
Men in Black: International
is a ho-hum sequel and my latest review. Billed as gimmick-ed science fiction with overseas flavor (hence the salient title), "International" feels more like a cutesy kids comedy than anything else. Call it
The Phantom Menace
of the
Men in Black
franchise. Call it pubescent tongue-in-cheek. Call it "men without tact". And just like the neuralyzer used in "International", you'll forget about the film the moment you exit the theater (for the record, I feel the original
Men in Black
wasn't that great to begin with).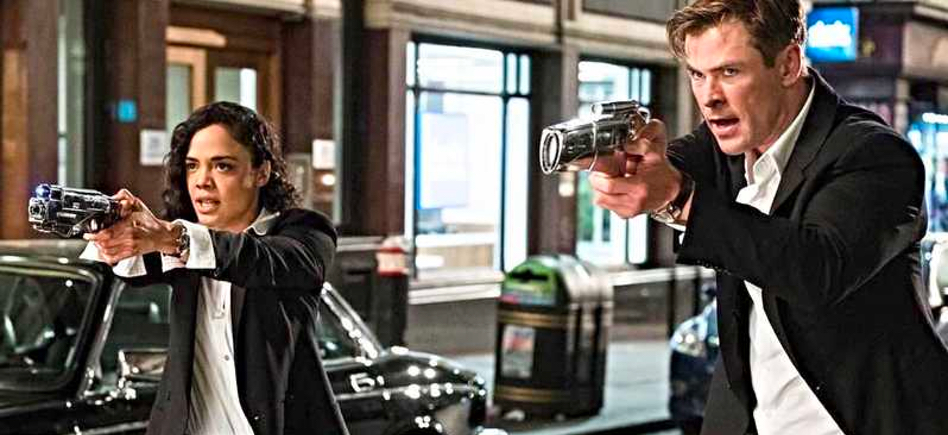 Tessa Thompson and Chris Hemsworth replace Tommy Lee Jones and Will Smith as the new
Men in
Black
leads. They are strapping, good-looking people who can act but they are saddled with an elongated, cringe-worthy screenplay. Yup, with game Liam Neeson signing on in a nixed supporting role, everyone comes off as a little haphazard here.
In
Men in Black: International
, Thompson and Hemsworth's characters have to save the E.T.-surplussed world while trying to find a mole in the Men in Black organization (you as the viewer could spot it a mile away). At an almost two-hour running time, it's hard to take "International" seriously. There's the usual shiny gadgets (which I like), a little bit of the action, some wonted special effects, too much of the drollness, and sadly, a lot of the disposable.
In conclusion, the biggest reason these
Men in Black
movies continue to get made is strictly a financial one (the four installments have garnered over a billion dollars worldwide). Based on the sparse amount of people at the screening I just attended, that trend might just end. Bottom line: If you must see
Men in Black: International
, head to a dollar movie theater, bring the kiddies (if you have any), take in the pseudo surround sound, and try to enjoy the Styrofoam popcorn. Rating: 1 and a half stars.
Written by Jesse Burleson