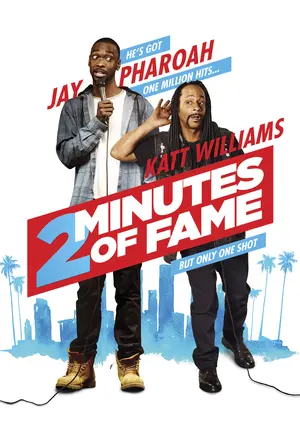 Director: Leslie Small
Year: 2020
Rated R
Rating: * * 1/2 Stars
Cast: Jay Pharoah, Katt Williams, Keke Palmer
"I'm not doing whatever I want, I'm following my dream". So says the character of Deandre McDonald when it comes to making people guffaw and completely bust a gut. McDonald with no money, no job, a best friend manager, and a family back in Alabama, ventures to LA to make it as a touring comedian. He rips his home state while becoming a YouTube monger in
2 Minutes of Fame
(my latest review).
Anyway, "Fame" at a running time of ninety-seven minutes, showcases star Jay Pharoah as the biggest scene chewer this side of 1990's Jim Carrey. With impressions ranging anywhere from Jay-Z to Eddie Murphy to Tracy Morgan to Denzel, Pharoah is likable if not a little hit-or-miss playing lead McDonald (mentioned in the first paragraph).
Yeah Jay could have been funnier,
2 Minutes of Fame
could have been a little more over the top, and Mike Epps could have killed it if someone offered him a slight cameo in the foreground. What's on screen is basically lightweight, R-rated fare and something an aspiring student of stand-up might get insight to. Yup, just imagine watching
Last Comic Standing
as a pseudo, potty-mouthed version. Then imagine a translucent fever dream that David Chappelle would have concocted right before he became a household name.
Directed by Leslie Small, featuring Katt Williams in a unique supporting role, and profusely made to subjugate today's Internet age, "Fame" is kinda stupid funny and reminded me of small scale comedies like
Half Baked
and 2006's
Grandma's Boy
. The film doesn't push any cruel envelope nor does it advanced the audacity of a career that Jay Pharoah might seek to have. Jay is basically playing himself here and with a direct-to-video feel, he doesn't exhibit enough padding to heighten his desired, star-making platform. Verdict: This "Fame" ain't no obscurity but it's no "grande dame" either. Rating: 2 and a half stars.
Written by Jesse Burleson