Directors: Andrew Stanton, Angus Maclane
Year: 2016
Rated PG
Rating: * * * Stars
Cast: Albert Brooks, Ed O'Neil, Ellen DeGeneres
Written by Cole Pollyea
As far as animated movie sequels go, Finding Dory is far from a letdown. It's a vibrant, o
ften times hilarious sequel that successfully incorporates the characters we grew so fond of in its predecessor, Finding Nemo, and manages to add new ones that are easy to fall in love with. And needless to say, it is also a perfectly enjoyable viewing experience for all members of the family.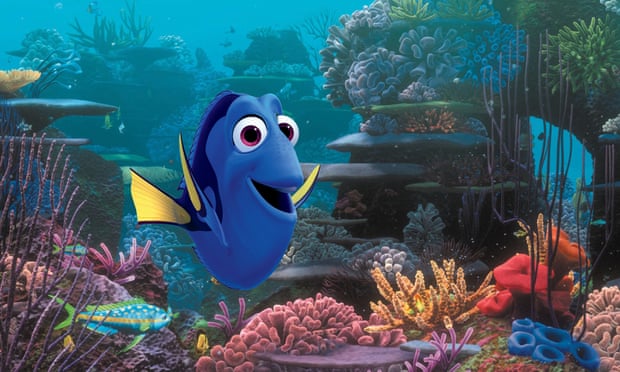 Taking on a familiar plot, Finding Dory follows the adverse tasks taken on by D
ory in her herculean attempt to find her long lost parents. Why adverse or herculean? Because, for those of you who haven't seen "Nemo" since its release in 2003, remember that Dory suffers from short term memory loss, but since this was early onset, as the movie reveals, this also means that she has forgotten many aspects of her childhood, which could be considered long term memory loss as well.
This attempt starts one day in the quaint life that she leads with Marlin and Nemo,
exactly one year after Nemo's rescue. Dory has an epiphany and all of a sudden can remember the address of her parents, which happens to be in California. This is on the other side of the world, however, and so, because of her condition, she enlists the help of many to get there, including Marlin and Nemo, the turtle Crush, an octopus named Hank, a whale shark named Destiny, a neurotic bird named Becky, among others. It's a pleasure to watch and cheer on our beloved Dory in an effort that we can all hold near and dear if for no other reason than for the emotional plight that we were a part of in Finding Nemo.
But as far as animated movies go, Finding Dory is not on par with its wildly imaginative and unequivocally sentimental predecessor. Since it is more or less a ret
read of the same story, it doesn't have the originality of "Nemo". Also, since the movie's climax is out of place and since its ideals are just not as compelling, its conclusion is simply not as impactful as "Nemo"'s. The bottom line is that Finding Dory is neither as grand nor as rewarding as one might hope. But that doesn't mean that it's not a fun ride.
Written by Cole Pollyea