Director: G. J. Echternkamp
Year: 2017
Rated R
Rating: * 1/2 Stars
Cast: Manu Bennett, Malcolm McDowell, Marci Miller
"Drive drive, kill kill, drive drive". That's a song lyric and/or spoken line from
Death
Race 2050
(my latest review). Split screens, a game of "chicken", Malcolm McDowell surrounded by topless women wearing a topless toupee, virtual reality as an audience medium, video game likeness. "Race 2050" has it all. Sadly, it's an elevated form of cinematic torture, pure torture.
First off, I wonder what Sylvester Stallone might think of this uninspired, post-dated sequel to 1975's drive-in sensation,
Death Race 2000
. Currently, it's a straight-to-video release so I'm sure he might have been too busy to check it out.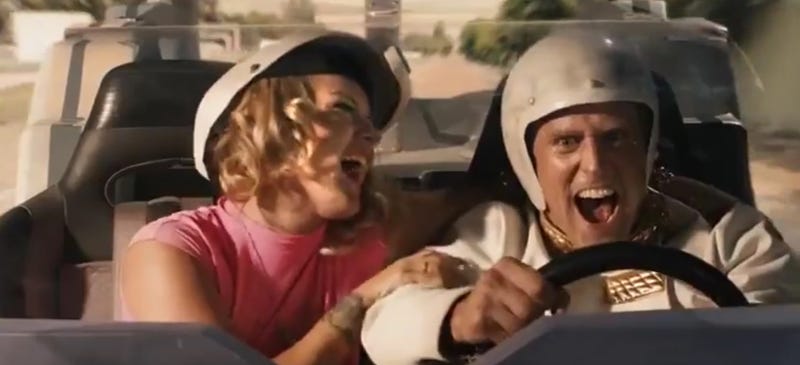 Anyway, the producer of "Race 2050" is 90-year-old Roger Corman. The days of his
Boxcar Bertha
are long gone. Now, he really needs to check himself. This film is truly bad camp and frankly, I don't get how it could have any appeal whatsoever.
Death Race 2050
starts off 2017 in a lousy way. Call it the nonchalant face of death and destruction. Heck, deem it the bastardized lovechild of
The Running Man
, the bloodied up version of
The Cannonball Run
,
The Road Warrior
for the radically inept, or the more violent, trenchant mirror of something like 1971's
200 Motels
. This is hyper satire but not entertainment folks. That's unless you're under the influence of some heavy drugs (I don't endorse that notion just so you know).
Now the characters in
Death Race 2050
, are remorseless, unfeeling, and brainwashed. They arrive in their automobiles with the B movie techniques of rear projection and bluescreen totally evident. Their acting is hammy and shoddy. The soundtrack to "Race 2050" is I guess, annoying heavy metal rock. Finally, the cars featured (the title has "race" in it so go figure) are pointed and atypical. Within "Race 2050's" plot workings, heads are severed, torsos are cut in half, and blood spattering is cartoon-like. It's all fun and games till someone gets hurt. Oh yeah, everyone gets hurt and dies without so much as a whimper (or empathy for that matter).
Silly, over of the top, and taking place in the year 2050 (duh),
Death Race 2050
makes you long for something more akin to 2008's remake of
Death Race 2000
simply titled,
Death Race.
That film wasn't really good to begin with. However, it at least took itself seriously enough to be made for somewhat compelling viewing. "Race 2050'" tries to be compelling in its last half. It even throws around the terms "Resistance" and "rebels". Futile attempt (ha ha). Don't the producers know that this is something already taken from the
Star Wars
franchise? Natch.
Lack of originality and kookiness aside, "Race 2050's" cast is comprised of Malcolm McDowell playing the same, sadistic monitor that he channeled in last year's
31
. And look for
Drop Zone's
Yancy Butler in a small yet overacted role (it's sad that "Zone" is the last flick I remember her being in). As for the special effects, well they are cheesy and caricaturish and you know what, I think the filmmakers wanted it that way. Ugh.
All in all, the story concerning
Death Race 2050
, is about planet Earth being post-apocalyptic and overpopulated. America has renamed its 50 states (Arkansas is now called "Walmartinique") and in order to control said population, drivers compete in an annual "Death Race". Basically, they drive across country while killing everyday denizens with their slickly automobiles (they hastily score points too, double ugh). The main trouper is Frankenstein played by New Zealand-born Manu Bennett. He's like Mel Gibson with a big fat frog in his throat. You know what, I'm just gonna refrain from going on and on. Here's my overall rating: 1 and a half stars.
Written by Jesse Burleson