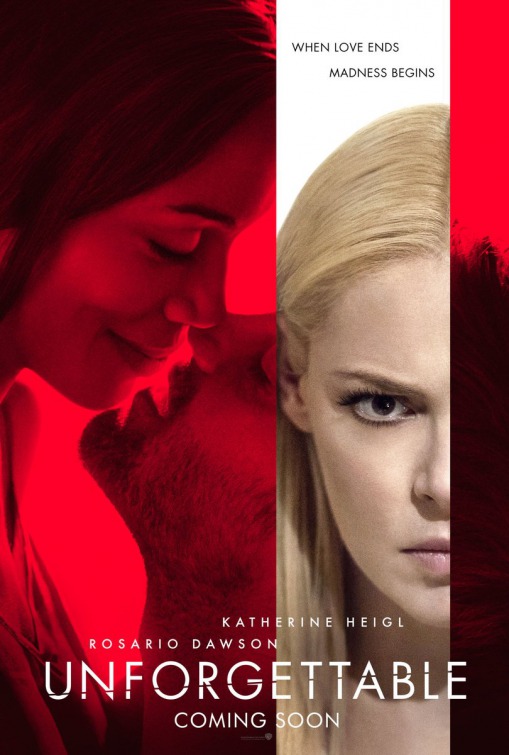 Director: Denise Di Novi
Year: 2017
Rated R
Rating: * * 1/2 Stars
Cast: Rosario Dawson, Katherine Heigl, Geoff Stults
"I'm done with crazy." So quips the trouper of David Connover from 2017's
Unforgettable
(my latest review). Me, well I'm not done with kitschy, dramatic thrillers because I go back to them every chance I get. It's a sickness and a darkened room escape I tell you.
Taking place in Northern and Southern California
, Unforgettable
is slick, trashy, lacks artistic value, and provides guilty pleasure entertainment. If you've seen the trailer, you don't need to be a genius to figure out what's gonna happen over the next 100 minutes (
Unforgettable's
lively running time). Similar yet restrained compared to
Obsessed
,
Swimfan
, 1992's
Unlawful Entry
,
The Perfect Guy
, and 2015's
The Boy Next Door
,
Unforgettable
is sadly my kind of contrite, film scanning. Call it a cinematic love-hate relationship for the viewer. Call it a stock, agitation-filled train wreck that you can't look away from.
Now
Unforgettable
despite a minor twist and some decent performances, still comes off as predictable with a sort of hooey ending. Watching it, you feel one step ahead of everyone and the foreseeable actions they partake in. Oh well. Director Denise Di Novi does manage to create a little tension and for much of the way,
Unforgettable
masks itself as a nasty, manipulative ride. Heck, you'll never look at Facebook, online chatting, or a hair brush the same way again.
The story is as follows: Julia Banks (played by Rosario Dawson) and David Connover (played by a low key Geoff Stults), are about to be engaged. David also has a child with his ex-wife, Tessa (played by Katherine Heigl). Julia and David's engagement doesn't sit well with deranged, unstable Tessa. She literally lives right next to the future spouses and looks to make Julia's life a living hell. There are murders, a framing of a murder, legendary cat-fights, and gerrymandering of today's social media (cell phones, cell phone photos, and the aforementioned Facebook). Heigl's Tessa is everywhere, looking as though there are holograms made for her.
Zuckerberg's creation and batsh*t craziness aside, if you've seen the movies mentioned earlier in this review, you'll know that
Unforgettable
is familiar stuff. The thing that helps it become almost recommendable is the acting of Dawson and Heigl. They rise above the material presented, throwing themselves into character and giving nerve ending turns. I'll give Heigl and Dawson a rating of three stars and every other element in
Unforgettable
two. My overall rating: 2 and a half stars.
Unforgettable
isn't entirely "forgettable" but compared to something like the superior
Fatal Attraction
(I almost forgot about that flick), it's second tier and not that "compatible". My advice for Dawson's Banks from the first half hour of
Unforgettable
was this: Get out of the inevitably bad situation woman! It's real simple.
Written by Jesse Burleson