Director: Gregory Plotkin
Year: 2018
Rated R
Rating: * 1/2 Stars
Cast: Reign Edwards, Bex Taylor-Klaus, Amy Forsyth
Two PDA-locked couples and one would-be couple happily flock to an elaborate haunted house carnival on Halloween night. Little do they know that a psychotic killer is lurking in said carnival's shadows. Regrettably, the uncharismatic butcher has no motive, no cool walking motion, and no reason for existing. That's the rub of
Hell Fest
, a slasher flick that borrows heavily from stuff like
Halloween
, 1981's
The Funhouse
, and
Scream
. Sure "Fest" has the novelty of a haunted house setting and yeah, it has a wistful Tony Todd cameo along with a couple of nasty, copycat kills. Sadly, that doesn't render the film any more innovative and/or tongue-in-cheek.
On a side note, I'm a Michigan native and the city of Niles certainly makes haunted abodes and movie locale train stations its go-to attractions. I attended a "Fest" screening in the Four Flags city hoping it would enhance my darkened, cinematic experience. Bottom line: Would I ever see
Hell Fest
again with its mediocre, twentysomething acting, its antagonist whistling "Pop Goes the Weasel", and its blase ending that doesn't quite compute? Uh "hell" no.
Anyway, "Fest" feels like the production company worked so hard on its colorful set design and its demented, Candy Land look. The problem is that this ode to sledgehammered, haunted house porn just isn't scary enough. When you figure out that the carnival is a non-creepy affair and the only foreboding thing in it is the rude stepchild of Michael Myers and
Scream's
masked face psycho, you wonder why
Hell Fest
was even made in the first place. "Fest" is re-fried and retried trepidation, with minimal build-up in its 89 minutes and cartoonish characters that make all the wrong decisions in excess horror fare (remember the dorks from that chainsaw GEICO commercial via a couple months back?).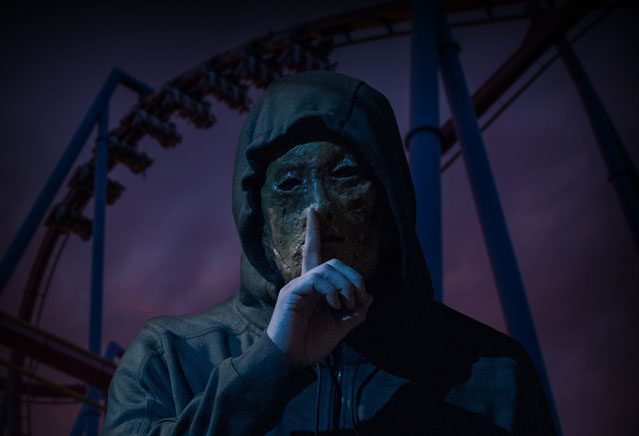 Helmed by a unknown director (Gregory Plotkin) and penned by three writers,
Hell Fest
makes you yearn for something more grainier, more ruefully R-rated, and truly more bona fide (the personas in "Fest" wander off by themselves when a knife-wielding slayer is just around the corner. Never seen that before). In truth, the evaporating
Hell Fest
should be out of theaters in short order very soon. Its risque title comes off as a tad unjustified. I'm more looking forward to Jamie Lee Curtis getting her revenge on come October 19th. Rating: 1 and a half stars.
Written by Jesse Burleson