Director: Timothy Woodward, Jr.
Year: 2019
Rated NR
Rating: * * 1/2 Stars
Cast: Trace Adkins, Jon Foo, Sean Patrick Flanery
If
John Wick
,
The Revenant
, or 2002's
Road to Perdition
were made into sooty Western dramas, the result would be 2019's
The Outsider
. Yup, "Outsider" is a mean-spirited, retribution pic and it's my latest review.
Country singer Trace Adkins doing his best Jeff Bridges impersonation, stars in "Outsider". He plays a down at heel Marshal with slight morals. Trace is no Laurence Olivier but he's intimidatingly tall and possesses the perfect acting voice for a flick about the felonious Old West. Sean Patrick Flanery plays a felon tracker (in "Outsider") named Chris King. Flanery channels his inner Russell Crowe with gruff, chuff, and scruff in tote.
In
The Outsider
, a railroad worker of oriental descent (Jon Foo as Jing Phang) seeks vengeance to any above the law lawman who murdered and abused his wife. "Outsider's" setting feels like the late 1800's, there's plenty of vests and spurs, almost everyone has a mean streak, and at least one character cockily twirls a gun (never seen that before, just kidding).
"Outsider" is rooted in close-ups, Dutch angles, feeble action set-ups, and adult motifs (there's an upsetting rape scene and plenty of roughed up sex involved). It's a jet black Western in cinematography and theme and I wish I had a better view of what was going on (maybe it was my old beat-up flat screen, who knows).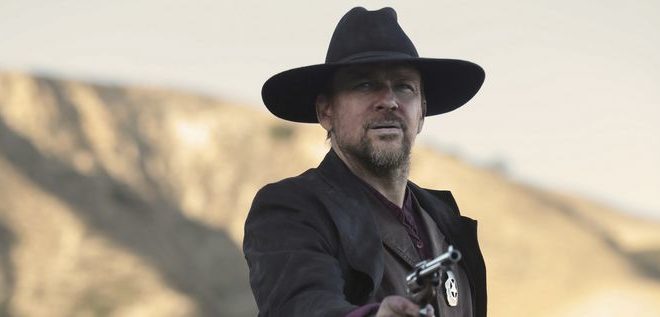 Dimness, obscure, and ribald tropes aside,
The Outsider
has a few intense moments and great supporting work from its antagonist (Kaiwi Lyman as corrupt sheriff James Walker). Still, the film feels a little anti-climatic, a little jaded, and blase blase in its final approach. It's the type of gunfighter endeavor where guys like the late Gary Cooper, the late Charles Bronson, and the late John Wayne would view it and confidently say, "hold my beer". Rating: 2 and a half stars.
Written by Jesse Burleson