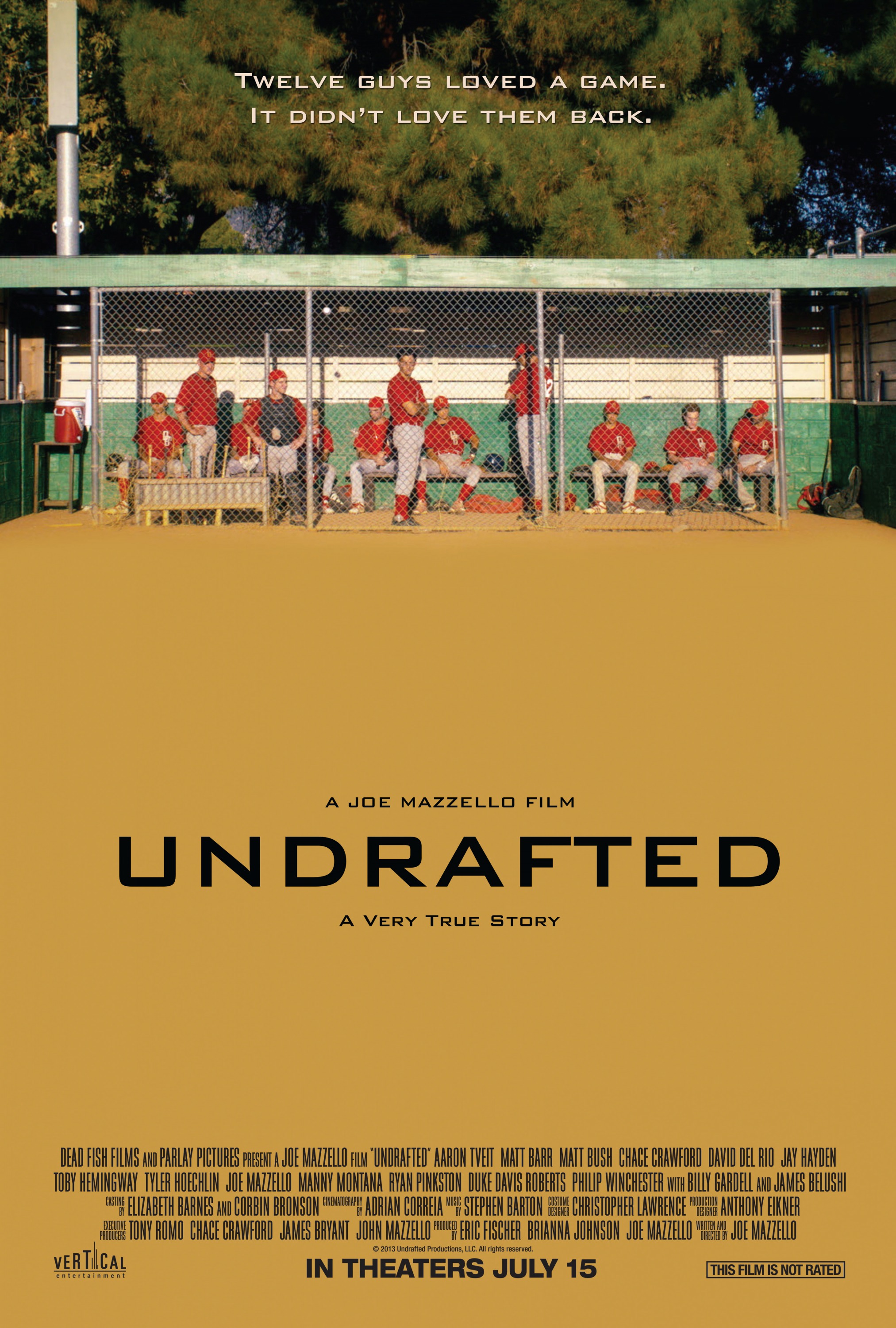 Director: Joseph Mazzello
Year: 2016
Rated NR
Rating: * Star
Cast: Tyler Hoechlin, Joseph Mazzello, Aaron Tveit
Baseball is America's pastime. It was first played in 18th century England. Sadly, it is depicted in a rather juvenile fashion via 2016's
Undrafted
(my latest review).
Undrafted
is about a crass, intramural team trying to win a meaningless, seven inning game. Supposedly, it is based on a true story involving the director's brother (John Mazzello). Real-life Johnny boy failed to make the Major League Baseball draft. If this is an admiral tribute to him, well then you can just call me the veritable Cal Ripken Jr. So OK, I've seen other, similar "play ball" movies like
For Love of the Game
and
Summer Catch
. This is indeed worse. Oh and um, Richard Linklater called. He says he wants his inclination of male bonding back.
Anyway, writer/director Joseph Mazzello (he's also an actor) fashions a script that might look good on paper but for some reason, deems these bat-and-ball dudes to be incredibly annoying. They don't talk and act like actual human beings. And hey, they won't and can't shut up. Players on the bench prattle about the Backstreet Boys. Tyler Hoechlin portrays a starting pitcher yet doesn't replicate anything near what said pitcher's form is supposed to look like. A center fielder and his teammates go psychotic even though their team is winning a slight, pivotal game. A hitter argues a pitch that is clearly in the strike zone. Finally, James Belushi appears briefly as a failed, draftee's father (is Belushi that hard up for an acting job). In jest, most of the sequences in
Undrafted
are in the dugout, separated badly from what is really going on in the field. Man I'm so glad this flick was free by way of On Demand.
All in all,
Undrafted
is like a more volatile
Everybody Wants Some!!
. It's overacted with scenes that are edited quickly only to die on arrival. The only difference between this film and "Wants Some!!", is that its proceedings don't include partying, drugs, alcohol, or the notion of getting laid. Heck,
Undrafted
sucks period no matter how you wanna analyze it. I wanted to punch everyone involved. No one wins this cinematic game of baseball and you know what, no one should. That includes the producers, the cast, and the filmmaker (Joe Mazzello) who excitedly (and naively) showed this thing three years after it was made.
Undrafted
is one of 2016's worst and I don't think it ever got released (in theaters) in the first place. Good call ump. A strikeout or a last-ditch, nicked foul ball is my commentating assessment . Rating: 1 star.
Written by Jesse Burleson