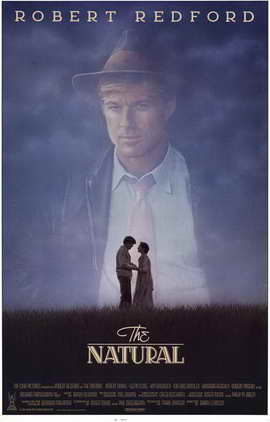 Director: Barry Levinson
Year: 1984
Rated PG
Rating: * * * 1/2 Stars
Cast: Robert Redford, Glenn Close, Robert Duvall
The Natural
is one of my favorite sports movies of all time not to mention one of the most uplifting films you'll ever see in general. After a quiet sort of mute opening credits sequence, it becomes a poignant, heavenly joy with Randy Newman's hair-raising score pouncing in at all the right moments. As aging baseball legend Roy Hobbs, Robert Redford seems a bit miscast at first, but the movie manages to make you forget about it by surrounding him with a strong assembly of renowned actors (especially Robert Duvall as driven-by-the-truth sports writer Max Mercy and Oscar nominee Glenn Close as a woman from Roy's past). The story takes Redford's character and portrays him as a sort of glorified, baseball messiah (he was out of the game for 16 years because of a gun shot wound) who played outfielder for the New York Knights (for one MLB season mind you). There is a mythical sort of fantasy element present here in which Hobbs has the ability to both pitch and hit like an all-star (unprecedented in today's modern game). Also, the fact that he kinda came out of nowhere and carried a checkered past, draws the viewer in with every well lit scene.
Director Barry Levinson effectively displays a knack for sentimental heroics and although
The Natural
tries to manipulate the viewer into thinking it's
Citizen Kane
(considered by many as the greatest film ever made), it still manages to give you goosebumps (the home run sequences are a little outlandish but go with what I'm saying) and does what the Jackie Robinson biopic
42
tried, but might have failed to do.
As a great family film and essential viewing for any sports fan,
The Natural
will make you stand up and cheer, even if you're the only person in the room.
Written by Jesse Burleson